BEIJING, 19 JANUARY 2015 – International welfare charity ACTAsia, based in the UK, Netherlands, China and the U.S., held its second annual Fur Free Fashion show yesterday in Beijing, China's capital. Designers from three continents joined the runway, along with nineteen fur-free brands, to promote fashion with compassion for people, animals and the environment.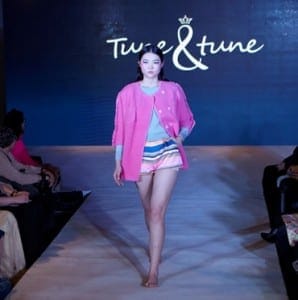 After a successful launch of the first-ever Fur Free Fashion Show in China in 2014 as part of ACTAsia's nationwide Fur Free China campaign, this year's event reached an even wider audience with a growing attendance of national and international cruelty-free fashion designers. Popular brands from the U.S., Poland, UK, Belgium, Korea and China presented their designs in the LEVI Art Studio in downtown Beijing.
The show was attended by over 200 Chinese celebrities and stars from the TV and music industries, including Miss China of 2013, TV actresses and pop singers, and attendees from the government and corporate sectors. Representatives of the British and Polish Embassies in Beijing presented the Fur Free Life Awards to individuals and companies in recognition of their outstanding efforts to promote a fur free lifestyle.
ACTAsia's Founder and Executive Director Pei Su stated that "China is one of the major fur-producing countries and has now become one of the biggest fur-consuming countries in the world, and the numbers are growing. Millions of animals raised for fur endure tragic lives and horrifying deaths. The industry also has many damaging effects on the environment. The Fur Free Fashion Show encourages the Chinese public, designers and retailers to make compassionate lifestyle choices and join a 'fur free life.'
The talented group of designers who provided their fur-free collections includes New York designer Leanne Mai-ly Hilgart from VAUTE, Gosia Sobiczewska from Poland, and Chinese designers Tony Yu and Li Lidan. The Chinese brands that were represented include Awakening and Zhong Shan Micro Life.  Katrien Van Hecke, the rising Belgian women's wear designer, said, "I hope by participating in the show in China, I will motivate the public to choose consciously made products as well as offer a more compassionate example for fashion students in China."
Tune Tune, one of the first Chinese brands that joined the group of Fur Free Retailers (an initiative of the global coalition Fur Free Alliance) has over sixty stores throughout China. Design Director Zhao Chao, explains, "We believe fashion is designed for beauty, and should not take away beauty from innocent animals. Our company does not use fur and we also actively promote a fur-free life as part of our corporate social responsibilities."
The majority of the collections on the catwalk were produced with eco-friendly and organic materials, including the use of banana fiber, tree bark and recycled bottles. LUSH Asia continued to be the exclusive cruelty-free cosmetics sponsor for the show, and healthy plant-based Chinese traditional food was served to demonstrate another aspect of compassionate living.
Fur Free Alliance, the global alliance promoting fur-free life sent their congratulatory message to the show. Chairman Joh Vinding said "I wish to congratulate everyone participating in the 2015 Fur Free Life — Cruelty Free Fashion Show. I hope this trend will lead more people to be aware that fur fashions cost animals their lives. We encourage companies to help by becoming fur-free retailers. "