In Animal welfare,Fur bans,Fur Farming,Recent News
Japan makes an end to fur farming
JAPAN, 29 NOVEMBER 2016 – Mink fur farming in Japan has come to a definite end now that the country's last remaining fur farm in Niigata has closed its doors. In recent years the Otsuka mink farm was repeatedly reported by Animal Rights Center Japan for operating without a license and violating the Japanese Invasive Alien Species Act of 2006. Now the farm has ended its operations, Japan joins a growing number of countries that are leaving fur farming behind.
Since the Invasive Alien Species Act in 2006 it became illegal to build new mink fur farms in Japan. The damage to biodiversity caused by escaped American mink from fur farms had become a significant problem in preceding years. In reaction, the 2006 Invasive Alien Species Act restricts the breeding of the non-native species American mink, raccoon and coypu to but a few purposes – as science and education. According to the Act, mink farms built prior to 2006 are allowed to continue their operations under license compliance. The closure of the Otsuka mink farm therefore puts a downright end to Japanese mink fur production. Since the Otsuka farm was the only remaining fur farm in Japan, the country's fur production has now ended entirely.
In recent years the unlicensed fur farm in Niigata had received multiple warnings of the Ministry of Environment for violating both the Invasive Alien Species Act and the Act on Welfare and Management of Animals. In 2015, after observing serious welfare issues at the Otsuka farm and spotting escaped mink, Animal Rights Center Japan again reported the unlicensed illegal activity of the farm. A new warning, this time, made the mink farmer decide to end its operations. According to the farmer, due to the decreased consumer demand and the high building costs to meet the licensing requirements his farm was no longer economically viable.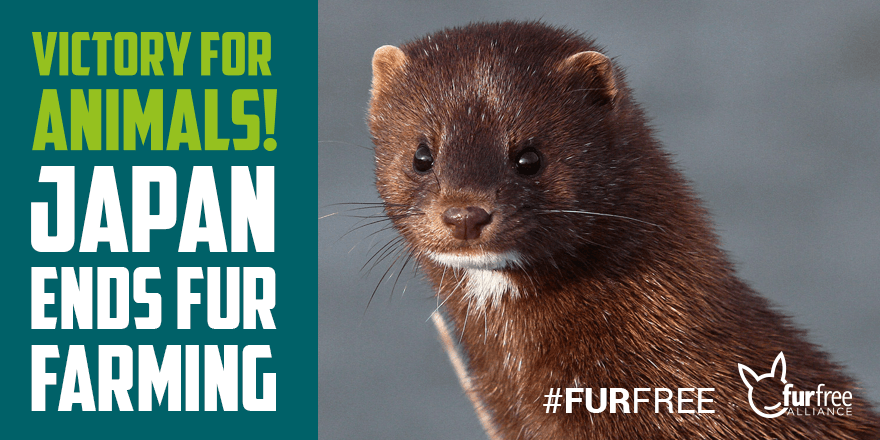 The popularity of fur clothing has significantly decreased in Japan due to a growing consumer demand for more ethically manufactured products. Since its peak in 2006 fur import figures have dropped a staggering 80% in Japan.
The end of Japanese fur production is a huge victory for animals and in line with international developments. Due to ethical, environmental and welfare concerns an increasing number of countries are turning their back on fur farming. Since 2000 eight European countries have decided to outright ban fur farming and currently three more countries in Europe are having parliamentary debates to end fur farming. Fur farming bans are in line with the public interest since the majority of society opposes the breeding and killing of animals for a non-essential luxury item as fur.