GERMANY, 6 JULY 2015 –The Fur Free Alliance praises luxury brand Hugo Boss for phasing out all real animal fur. The progressive decision was recently announced in the HUGO BOSS Sustainability Report 2014 and has been an issue in discussions between HUGO BOSS and the Fur Free Alliance.
HUGO BOSS will be dropping all fur, including rabbit fur, from Fall/Winter 2016 Collection onward.
Joh Vinding, Chairman of the Fur Free Alliance says:
"HUGO BOSS has become a leader in the fashion world by taking a stand against animal cruelty and ending the use of fur in collections. The Fur Free Alliance hopes other luxury brands will follow HUGO BOSS's lead, especially since there are now so many cruelty-free alternatives that are fashionable and indistinguishable from the real thing."
Bernd Keller, Brand and Creative Director Sportswear at HUGO BOSS, said in the company's latest Sustainability Report:
"From our Fall/Winter 2016 Collection onward, we will no longer be using raccoon dog or rex rabbits. This means we will not be using any farmed fur in any of our HUGO BOSS clothing collections and are sending out a clear signal… Today, we are therefore also successfully supplying "friendly fur" and "friendly leather" products. We want to use these products to inspire the present generation and especially the next generation with a new kind of luxury."
HUGO BOSS joins a growing list of fur-free brands and retailers, including Tommy Hilfiger, Calvin Klein, Stella McCartney, Zara, and ASOS.
Please let HUGO BOSS know your appreciation for their compassionate decision to go fur free, by leaving a message here.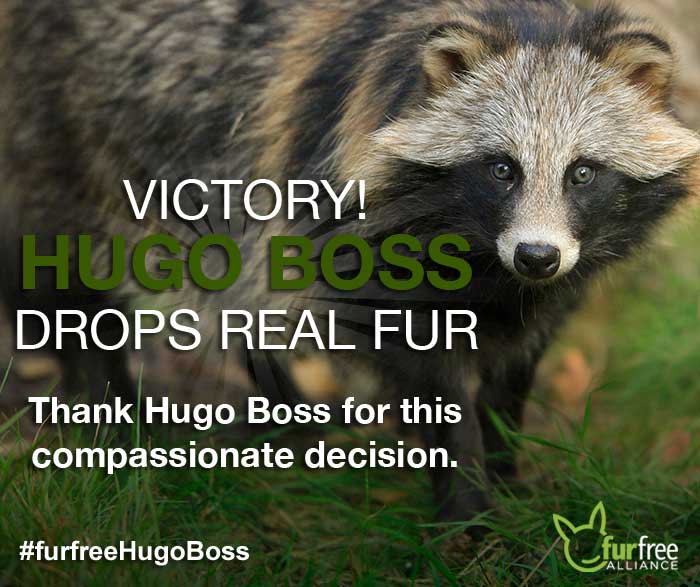 HUGO BOSS Sustainability Report: http://group.hugoboss.com/en/sustainability/sustainability-report/