AMSTERDAM, 12 JANUARY 2016 –  Fur trims on children's jackets contain harmful levels of toxic chemicals posing a serious health risk. New research, commissioned by Dutch Fur Free Alliance member Bont voor Dieren, tested children's wear of well known brands as Canada Goose, Versano, Woolrich, Nickelson and Airforce. All of the brands, that were tested by the German independent research laboratory Bremer Umweltinstitut, reveal high levels of formaldehyde and ethoxylates, which can cause allergies, cancer and hormonal imbalance.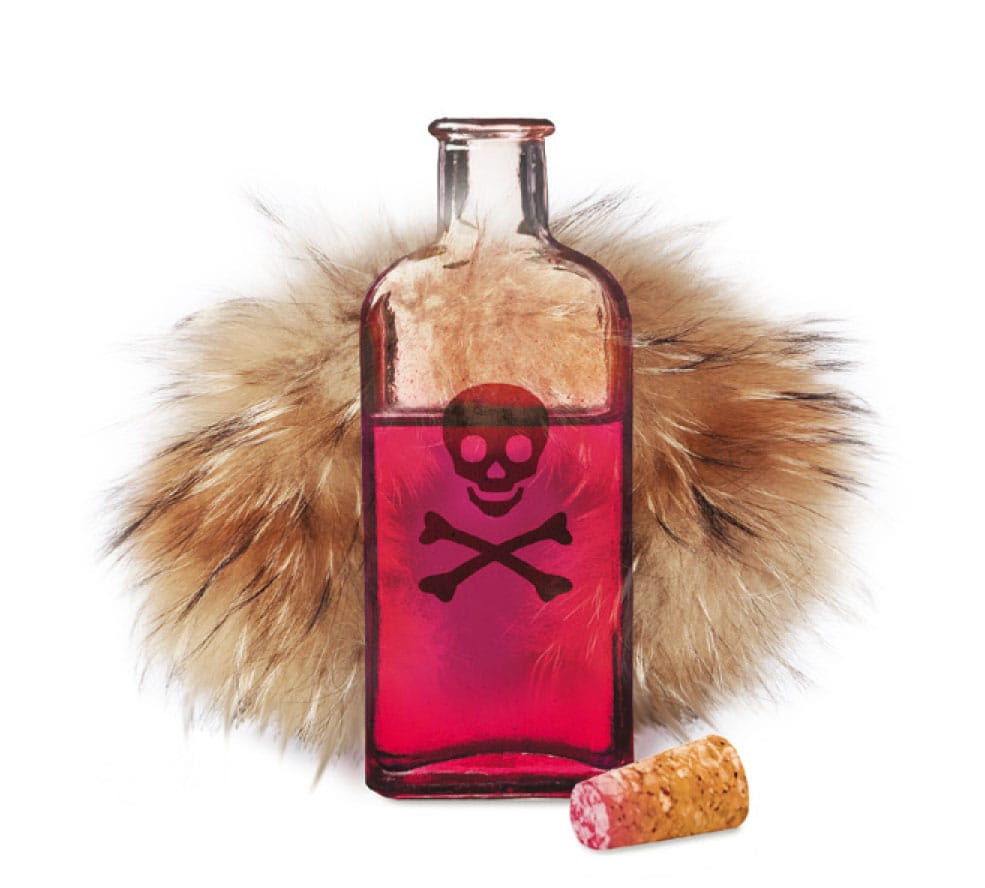 To prevent animal pelts from rotting, various hazardous and heavily polluting chemicals are used in the process. After processing pelts in order to conserve them, more toxics may be used to bleach or dye the fur. While industry and retail trade claim that fur is a particularly sustainable natural product, truth is that fur production is intensely polluting, energy-consumptive and an extremely unnatural process. Nicole van Gemert, director of Dutch animal protection organisation Bont voor Dieren, says:
These are very disturbing results. Again it is proven that common production processes for fur garments and accessories put human health at great risk, and we are talking about children's wear! Extensive international research has revealed time and again that wearing fur contaminates the end consumer. Still no improvements have been made whatsoever. I hope this new report will call on the government to take the action that is needed.
Formaldehyde.
Formaldehyde is usually taken in through the air or skin which may lead to irritation and allergies. In 2004 the International Agency for Research on Cancer (IARC) added formaldehyde to the list of agents that can cause cancer. Five out of six brands that were tested exceed the permissible levels of formaldehyde in textile products, as determined by the Dutch Commodities Act. The act requires products that exceed a level of formaldehyde of 120 mg/kg to come with a label that prescribes the item to be washed before use. After washing the level of formaldehyde should no longer exceed 120 mg/kg. None of the tested children's jackets came with such a label.
According to the European Toy Safety Directive (2009/48/EC) toys made of textile are not allowed to exceed a level of 30 mg/kg of formaldehyde. All of the tested fur trims exceeded this level. A fur trim on a Canada Goose children's jacket contains 240 mg/kg, a fur trim on an Airforce jacket 180 mg/kg and 260 mg/kg formaldehyde was found on a Versano fur trimmed jacket.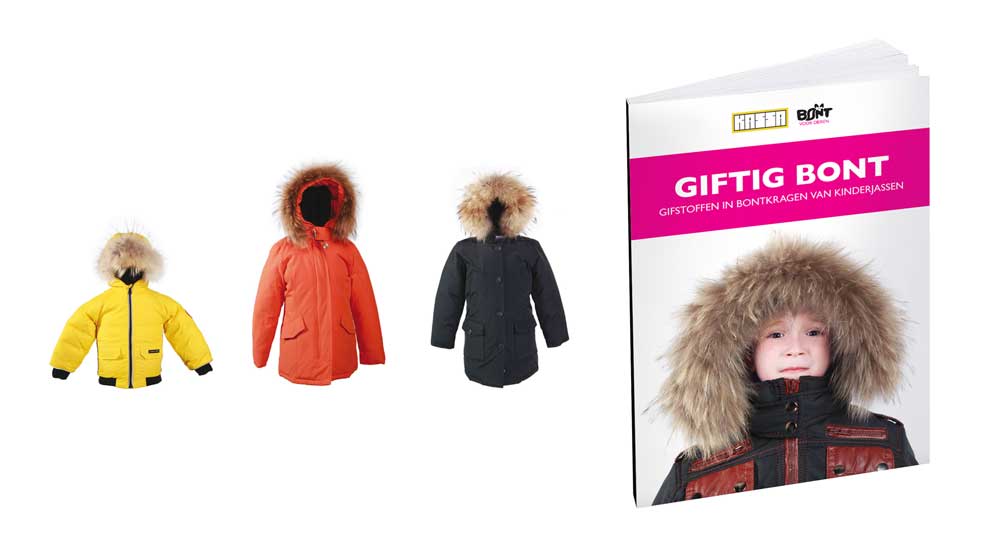 Hormonal imbalance
The test results showed high levels of ethoxylates in five out of six brands of children's wear, largely exceeding the permissible levels. Ethoxylates behave like the hormon
e estrogen and cause disturbances to the human hormonal system. These chemicals are absorbed through skin and enter the body through blood. Ethoxylates can remain in the body for over twenty years, causing chronic health effects.
The Oeko-Tex Standard 100 is an independent testing and certification system for textile products. Oeko-Tex Standard 100 aims to test for harmful substances by focusing on the actual use of the textile. The more intensive the skin contact of a product, the stricter the human ecological requirements to be met. The maximum allowable dose of ethoxylates, according to the Oeko-Tex Standard, of 100 mg/kg is exceeded by the brands Airforce, Versano, Nickelson and Canada Goose. Importers of products that exceed the dose of 1000 mg/kg are required to inform their costumers about the presence of the substance and the accompanying safety measures. This applies to fur trims of the brand Airforce. Jakob de Boer, toxicologist of the VU University of Amsterdam, adds:
The high levels of ethoxylates and formaldehyde are reason to be very concerned about the health impacts of wearing fur. These results call for a closer inspection of the permissible levels and possibly for a ban on these products.
Click here to view the test results of the German independent research laboratory Bremer Umweltinstitut.
The research report was presented on Dutch public television in the consumer affairs program Kassa, watch the full item (Dutch).
Previous results of extensive research conducted in Italy and Germany have shown the problem of toxic fur is widespread. Read more here.