RUSSIA, 5 OCTOBER 2015 – From 3 until 10 October Russian Fur Free Alliance member VITA Animal Protection Center and Lush Fresh Handmade Cosmetics are running a campaign in Russia against the production and wearing of fur, promoting the wide variety of warm alternative clothes choices available.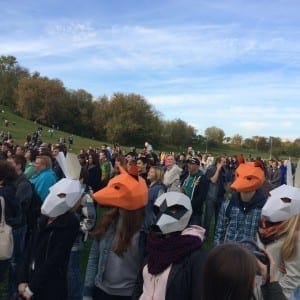 On the 4th October, in celebration of World Animal Day, 60 cities across Russia and 6 neighboring countries hold events entitled 'Animals are not clothes'. On the same day, Lush shop staff in 56 shops across Russia are offering customers advice on how to stay #теплобезмеха (warm without fur) with on-trend, fashionable clothing options using high-tech materials. Customers are able to show their support and solidarity for the animals by donning a paper fox, mink or hare mask and taking a selfie to post on social media, along with a message on how they will stay warm without fur this winter (#furfree2015).
Irina Novozhilova, coordinator of VITA, says:
"I am glad that ideas of non violence in connection of any living creature are becoming priority and this is a world wide trend. We live in an amazing time when more and more people on our planet are rethinking their role in this world. The new generation is trying to live without making others suffer and this is a lifestyle choice. This style is applicable to choice of clothing – in a modern wo/man's wardrobe there is no place for fur, it is replaced by ethical materials; like the choice of cosmetics – it can be cruelty free."
In Russia, the anti-fur movement is gaining momentum. In 2008 five Russian stars: Laima Vaikule, Artemy Troitsky, Alena Sviridova, Aleksandr F. Sklyar and Viktor Gusev participated in a unique plight in the ice of the White Sea, in the "Maternity House" of the seal pups. The result of this trip, which was widely covered by all Russian media channels, was a complete ban on hunting harp seals, which had previously been carried out for the sake of fur production. In the year 2014, unprecedented in its scale and significance, the action "Animals-not clothes" took place in 60 Russian cities. Across the country – from the far East to the western borders, from the South to the North, a wave of marches, rallies and pickets took place – the purpose of which was to draw attention of the society to the rigidity of using animals for clothing.
Faux Fur
Today, in the twenty-first century, modern technology has allowed us to not only replace animal fur, but also surpass it on a number of parameters. Comparative analysis of the properties!of fur and modern alternative materials held using special models, confirmed the thermal qualities of using the alternatives to fur. Special heating fibers used in warm clothes allow polar researchers to stay for extended periods in!the Arctic zone, withstanding very low temperatures in the range from -30° to -60°C.
Heat resistance and high functionality of alternative materials has been proven during extreme northern expeditions. Equipment using synthetic insulation (for example, Thinsulate and Hollofiber) were used to equip the world's first Trans-Antarctic expedition led by the famous polar Explorer Vladimir Chukov (1998), the unique round-the-world sailing yacht "Apostol Andrew", participants of the expedition to Greenland under the guidance of renowned Russian Polar Explorer Dmitry Shparo (1999) and the 10-day expedition to the White Sea "Front-line road" (2006).
Continuously improving the thermal quality of the clothes, the developers have used natural principles of plant fibers and animal fur, with a cavity inside, filled with air. So many artificial fibers are made today with a special cavity inside as a way to increase heat retention. Synthetic furs are now used in the production of garments for astronauts, scuba diving suits and even in the building of tents and yurts. Heavy, bulky and bad in high humidity conditions, fur has long since ceased to be regarded as an indispensable means of protection from the cold. Modern technology has helped to create warm, friendly and elegant clothes based on synthetic insulation – Hollowfiber, Thinsulate, Hollofil, Quallowfill, Polarguard, Fibertech, Shelter, Izosoft, Termofinn and others.