KOPENHAGEN, 6 OCTOBER 2014 – September fur auctions in Finland and Denmark report precipitous price drops of mink fur compared to 2013. The average mink fur price fell down 55 percent at the most recent Finnish Saga Furs auction, while this year's sales figures of Kopenhagen Fur in Denmark dropped 40 percent. Luxury products such as fur coats are very rapidly losing market in China, as anti-corruption and animal welfare campaigns are spreading wider.
The European fur industry can no longer turn a blind eye to the long foreseen burst of the 'Chinese fur bubble'. This month the average mink fur price reportedly fell to 34.65 euro – compared to 76.90 euro in September 2013 – at auction house Kopenhagen Fur, which accounts for about a third of Denmark's exports to China. Sales figures of Finnish auction house Saga Furs present an even less optimistic view on the European mink breeding industry; besides the 55 percent price drop of sold mink skins the third-quarter results of Saga Furs report a 6 percent profit decrease. With no more profit margin the European mink breeding industry will need to reconsider their investments. Storehouses full of high-priced unsold stock – bought during the peak of the 'Chinese fur bubble' in 2013 – will cause many new Chinese buyers to leave the market.
Apart from the economical viability of the European mink breeding sector being at stake, the industry is increasingly subject of fierce public and political debate. Ethical and welfare arguments mainly refer to outdated killing methods and behavioural problems that arise from keeping active predators in small wire mesh cages.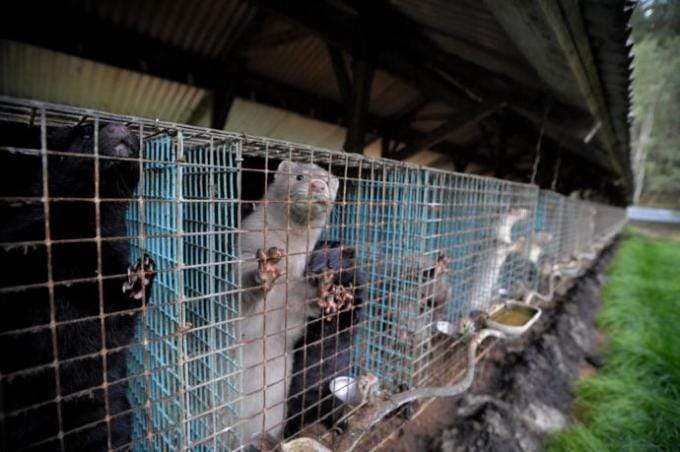 According to a report published by the Scientific Committee on Animal Health and Animal Welfare of the European Commission in 2001 fur-bearing animals are not suitable for farming or breeding and stress-related, stereotypical movement patterns are widespread on mink farms. A majority of citizens in various European countries – e.g. 78 percent in Sweden, 73 percent in Croatia, 85 percent in Italy – considers mink breeding for a luxury product as fur unacceptable. Fur bans are currently being discussed in a number of European countries.
The fur industry claims the recent sales drop of mink fur is caused by an unexpectedly mild winter in China, world's largest importer of fur pelts. Executive director of the Finnish animal welfare organisation Animalia, Salla Tuomivaara, sees the collapse as part of a wider trend in China:
'The reason for the price drop is most probably the anti-corruption campaign initiated by the Chinese government, which discourages public servants and their administration to accept luxury gifts.'
According to a survey of the Hurun Report wealthy Chinese are set to buy fewer luxury goods again this year, marking the fourth consecutive year of decline, after their overall spending fell by 15 per cent in 2013.
In recent years fur was considered a status symbol among wealthy Chinese; an idea that Kopenhagen Fur was keen to reinforce by strategically commissioning advertisements and staging fashion shows in China. According to Pei F. Su, CEO of ACTAsia for Animals, the new generation in China is less interested in wearing fur:
'The Chinese are increasingly well-educated and the awareness of animal rights and welfare problems in the fur industry is becoming more and more wide-spread. Nowadays wearing fur is considered less fashionable among the Chinese youth.'
The Fur Free Alliance, an international coalition of animal welfare organisations working against fur, has consistently supported nationwide campaigns in China focusing on a young generation. In more than 16 provinces each year over 60 events take place as part of the No Fur China campaign. Organiser ACTAsia for Animals, member of the Fur Free Alliance, is working closely together with multiple local groups, college students and a large number of Chinese celebrities in raising awareness on the poor conditions in which animals are kept in the fur industry. Additional initiatives such as Fur Free Retailer and the Cruelty Free Fashion Show actively encourage the fashion industry to abandon the use of fur and choose for fur free designs. Consumer behaviour in China is more and more affected by concerns on animal welfare and its impact on the European fur industry might be far more serious than is currently thought.